There are thirteen different species of squirrel and twenty different members of the family Sciuridae in Washington state alone. Here are some of the most common squirrels one might see beyond the UW campus...
Eastern Gray Squirrel (Sciurus carolinensis)
| | |
| --- | --- |
| Class: | Mammalia |
| Order: | Rodentia |
| Family: | Sciuridae |
| Genus: | Sciurus |
| Species: | carolinensis |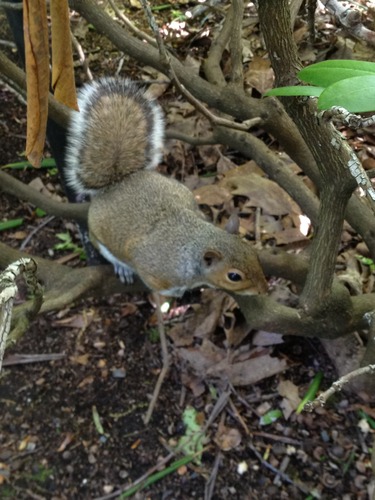 The Eastern Grays are the most common species on the UW campus. They were introduced to this area from the east coast, so they are most certainly not native, but they are a species one will find in other parts of the state. For extensive information on these guys, see the rest of the website!
Western Gray Squirrel (Sciurus griseus)
| | |
| --- | --- |
| Class: | Mammalia |
| Order: | Rodentia |
| Family: | Sciuridae |
| Genus: | Sciurus |
| Species: | griseus |
source: www.friendsofgriffithpark.org

This species is extremely similar looking to its cousin, the Eastern Gray squirrel. Unlike the Eastern Grays, Western Grays are native to the west coast, are present in much smaller numbers, and their distribution is much less widespread. At a glance, it is extremely difficult to tell the Western Grays apart from the Eastern Grays. If one has the chance to look carefully, however, one will find that the Western Gray will often have much more silver gray in the fur of its body and tail while the Eastern Gray usually has quite a bit of brown along its back and in its tail. Western Grays are usually much larger than Eastern Grays and their calls are very different. There are only three noteworthy populations of Western Grays in the state: one in central Washington, one in southern Washington, and one at Fort Lewis. Their numbers are currently dropping thanks to the Eastern Gray squirrels living with them and other factors, though studies are being done and efforts are being made to solve this problem and boost their population. They will build nests, called dreys, in tree holes where they will raise their young. They mate during a period ranging from late December to early June and the babies are born after 44 days.
Douglas' Squirrel (Tamiasciurus douglasii)
| | |
| --- | --- |
| Class: | Mammalia |
| Order: | Rodentia |
| Family: | Sciuridae |
| Genus: | Tamiasciurus |
| Species: | douglasii |
Photograph by Michael Scheltgen
The Douglas' squirrel is not a species that is likely to be spotted on the UW campus. They live all over western Washington, but they do not stay in cities like the Eastern Grays do, preferring instead dense, coniferous forests. In the summer, Douglas' squirrels have extremely dark brown coats with bright orange bellies and brown, bushy tails slimmer than those of Western and Eastern Grays. In the winter, their coats are more gray and there is less orange on their bellies. Adults will have a black stripe along the length of their bodies. This species is much smaller than their cousins, with a body size of only about eight inches compared to the general eleven inches of all the others on this page. They eat a wide variety of foods such as fruit, fungi, and even birds' eggs or young birds. Like most squirrels, this species builds nests in trees, tree holes, or underground. Mating season for the Douglas' squirrel is between late February and early April and the female will give birth a month later. The babies will stay with their mother for the first year.
Red Squirrel (Tamiasciurus hudsonicus)
| | |
| --- | --- |
| Class: | Mammalia |
| Order: | Rodentia |
| Family: | Sciuridae |
| Genus: | Tamiasciurus |
| Species: | hudsonicus |
Photograph by Gilles Gonthier.
These squirrels look rather similar to Douglas' squirrels at a glance, but their fur is usually a much lighter red-brown and their bellies are white instead of orange. Their tails are very slim compared to those of the Western and Eastern Grays. These squirrels only get their black stripe separating the white from the brown in the summer. Red squirrels can be found in eastern Washington and will live in deciduous and coniferous forests. They will even live in suburban areas with plenty of trees, making them similar to the Eastern Grays in preference. They will eat seeds, fruit, fungi, and, like most squirrels, bird eggs and young birds. Red squirrels build nests underground or in tree hollows. Mating season for this species is in late winter and the babies will be born a month later. The babies will go on to live with their mother until they are 18 weeks old.
Northern Flying Squirrel (Glaucomys sabrinus)
| | |
| --- | --- |
| Class: | Mammalia |
| Order: | Rodentia |
| Family: | Sciuridae |
| Genus: | Glaucomys |
| Species: | sabrinus |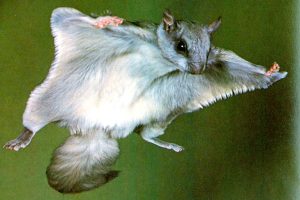 Source: www.nature.ca
Northern flying squirrels are widely distributed throughout Washington state, living only in heavily forested areas. They are certainly not something one would encounter on the UW campus. They are much smaller than other tree squirrels in the state, making them very easy to distinguish. Their heads are very small and narrow, their tails have very dense hair, and their bodies are cinnamon to gray with white bellies. These animals are nocturnal and sleep in tree cavities during the day, so they are very difficult to find. Flying squirrels glide between trees using two wide, furred flaps of skin that extend from their wrists to their ankles. They are ready to reproduce one year after they are born and will do so the first summer after reaching that age. Northern flying squirrels are one of only two flying squirrel species in the world, the other being the southern flying squirrel.
Fox Squirrel (Sciurus niger)


| | |
| --- | --- |
| Class: | Mammalia |
| Order: | Rodentia |
| Family: | Sciuridae |
| Genus: | Sciurus |
| Species: | niger |
Source:
http://wdfw.wa.gov/conservation/gray_squirrel/
The fox squirrel can often be very similar looking to the Douglas' squirrel, but there are a few defining features that can be used to identify a fox squirrel. Fox squirrels have reddish-brown to light gray backs and red to yellow-orange to white bellies. They will have black and orange faces and will occasionally have black on the tail. They are easily identified by their extremely long, broad tails which are often bright orange. Fox squirrels were introduced into the state from the southeastern United States and can be found in both rural and urban habitats. There are three main populations of these squirrels in central and southeastern Washington. Fox squirrels will mate in late winter and midsummer and babies are born in early spring and late summer. Their diet is similar to most other squirrels (they prefer plant seeds, of course).
California Ground Squirrel (Spermophilus beecheyi)
| | |
| --- | --- |
| Class: | Mammalia |
| Order: | Rodentia |
| Family: | Sciuridae |
| Genus: | Spermophilus |
| Species: | beecheyi |
Photograph by Tom Woodward
Ground squirrels like this one spend their time, as their name suggests, on the ground. The rest of the squirrels on this site are all tree squirrels and spend their time in trees. The California ground squirrel lives primarily in the southwestern part of Washington, where they maintain a very large population. They are about the same size as many of the above tree squirrels and have slim, speckled tails and dark to light brown fur with small white speckles on their backs and light bellies. These squirrels prefer to live in grasslands, clearings in woodlands, urban areas, farmland, and other places that offer them loose soil in which to burrow. They build their nests in burrows underground where they raise their young. Mating season is in early spring after they come out of hibernation (in colder areas with snow) and babies are born a month later. The babies leave their mother after only eight weeks.
This is just a general guide to a few of the squirrels found within the state and their behavior. For more information and for some of the other species one can find in the state, please see any of the wonderful websites dedicated to squirrels in the "Learn More" tab!
Written by Tessa